I must admit I'm not normally a big fan of the clothes in Topshop - it always seems a bit too trendy and cool for the likes of me - but I do adore their nail polishes. The Oxford Street store has a whole little section tucked away near the entrance for its make-up, including walls of nail polishes, and I can never resist popping in there to have a look at the latest shades. I spotted One Hot Minute a few weeks ago and completely fell in love with the name and the colour (Topshop polishes always seem to have brilliant names!).
As always with Topshop nail polishes, the application was really good - even in one coat it goes on really well and two coats was plenty to give perfect coverage, although I did three coats for fair comparison across my other polishes which I've blogged about. I do think this affected the colour of the polish though as it says 'magenta', which I would expect to be more of a bright purply-pink, but when it's on it's actually more like a reddish hot pink. Not that I'm complaining of course, it's a fantastic colour in and outside the bottle!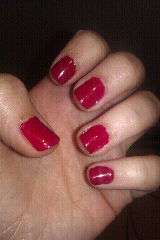 However, the day after I did this manicure I went to the zoo as my lovely boyfriend bought me a 'meet the penguins' session as a birthday gift, and the penguins kept pecking my fingers, which apparently is because they love bright colours and shiny things. However, amazingly despite the sharpness of the penguins' beaks, the polish stayed on and there were no chips! I may have just given Topshop and Seche a new advertising slogan: 'Our polish is penguin-proof!' :)
Overall, this is a great polish: well priced, lasts a long time, applies well with good coverage and bright enough for a night out whilst still smart enough for the office. If you fancy picking up some up it costs £5 a bottle and is available in larger Topshop stores or via the website.